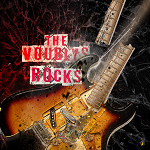 The Voublys are a rock band comprised of three members – Tama, Mana, and Andy. They formed in 2010 at Sapporo, Hokkaido, Japan, and their songs suggest an alternate universe in which The Rolling Stones played Punk Rock, with elements of pop and folk music in the mix too. Influenced by 60's beat rock bands, 70's punk bands and grunge bands, the group has more than 1000 fans on internet radio!
Meet The Crew
Tama
Tama is the band's main composer, and he handles the vocals and lead guitar. Skilled with many genres of music, his pen won't stop working its way across the page, and the music keeps on flowing – in and out of different genres, his creative versatility can't be stopped. He has total control over the emotions within his guitar playing, and is capable of playing intense and powerful melodies, as well as gentle, emotional ones.
Mana
The band's drum player, Mana has been playing as a professional drummer since he was 15 years old, giving him a wealth of experience across several years. Sometimes stylised as "MANA", he stays true to his name, and brings "magic" to every stroke of the cymbal, every crash of the drums. Keeping the beat of the band on whatever musical journey they venture, Mana is there to keep everything measured and collected through his steady rhythms.
Andy
Finally, the bassist of the group aids in subtlety and giving weight to the melodies of the group. Andy is the youngest of the trio, but he has experience beyond his years, and his bass work helps give songs that firm ground to stand on, which they need if they wish to leap into the air and fly – luckily, as far as the Voublys are concerned, their songs always manage to achieve liftoff, and this is due in no small part to Andy supporting his fellow members with his funky strumming!
The Voublys are definitely a unique sound. Not quite J-Rock, not quite Punk, not quite Pop Rock, but somewhere in between. They've even been known to dabble with orchestral-styled vocals, such as with their collaborations with Clare Estelle in singles such as "Love's Denied". The mark of a truly creative artist is one that explores all genres available to them in their chosen passion, and all 3 of the Voublys tick that box with aplomb!